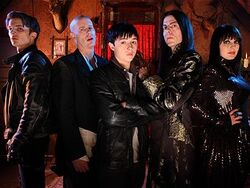 Series 4 is the fourth series of the popular CBBC show Young Dracula. It consists of 13 episodes, each about half an hour in length. This series was confirmed by Gerran Howell who posted the information on Twitter. Filming began in mid April 2012 and was first broadcast on Monday the 29th October. It was filmed in Liverpool.
Notes
Erin's hair style has undergone a slight redesign, as tweeted by Sydney Rae White. From her original "Bieber" style hair cut in series three, she now has hair coming down at the side as is seen in this picture .
Richard Southgate is playing a street vampire called Malik who is determined to bring the treaty down on Vlad's head.
Main Cast and Characters
Recurring Cast and Characters
Trailers