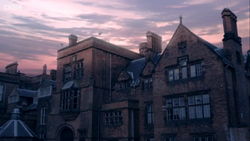 Garside Grange Independent Day School is a school owned by Count Dracula with the Dracula's living in the attic. Count Dracula hires a head teacher named Alexandra McCauley to manage the school. At the end of Series 4 the school is forced to close because of 'roof damage'. This was actually down to Elizabeta, the main villain of the series.
Teachers
Staff
Students
School uniform
The uniform consisted of a green and yellow striped tie, black trousers or skirt and a grey jumper. Vlad and Ingrid were seen wearing slightly modified versions of this uniform. Vlad wore a black hoodie with a yellow and green striped tie and black trousers.
Series 5
Count Dracula decides to turn Garside Grange into a hotel. The plan backfires and the old building remains largely disused. After uncovering the Magister Maleficorum, Count Dracula and Renfield invite breather guests to view the house with the hope of selling it ("Open House"). In "The Darkest Hour" the Blood Seed grows to fill much of Garside Grange after Morgan eats the forbidden fruit. The Draculas defeat him in the entrance hall by combining all the vampires' energies.
At the end of series 5 it was revealed that Piers had bought Garside Grange. He told Ingrid that because of her involvement in the making of his successful game, she had a fifty per cent share. The two hug and Ingrid tells him that she always wanted a 'throne of my own'. Vlad then leaves Garside with Talitha and Count Dracula leaves with Renfield for Australia.
Interior
Garside Grange is a beautiful red-brick building. The main setting of Young Dracula in series 3, 4 and 5, the old building has many secrets. Some of the main features are:
A gate with a menacing gargoyle
A courtyard
A balcony
A main staircase and 'lobby' area
The throne room and main dining area
A kitchen and larder area
Several attic spaces
A secret cupboard (in which the Magister Maleficorum was stored)
Dozens of disused classrooms
A garlic pit behind a false cupboard (which Goody McEldrich was pushed into)
An entertainment area, including a fire pit (seen in Carpathian Feast)
A basement with a large cage (also seen in Carpathian Feast)
The blood cellar (where blood bottles are stored)
Ingrid's attic room (where she keeps her new computer)
The Count's chamber (where he sleeps)
Vlad's room (where he keeps his coffin)
Ingrid's room
A lead lined room (in which the Draculas were trapped in Sun And Heir)
A sports hall (seen in The Good, the Bad and the Undead)
The basement where the Blood Mirror was kept in Series 3
The Blood Mirror room (seen in Kiss of Death]])
A security system (set up by Piers before the beginning of Bite Me)